Rockstar Magazine: Welcome back to Rockstar Magazine Oscar. Man you done Blown Up!! Look at you! How are you man….? I remember catching you at the Blues Jam at the Longbranch about 5-6 years ago. . . loving the new tunes . . . what Inspired all these new songs?

Oscar Ornelas:
Thank you so much for your appreciation and support — it means so much. I've been working on portions of this album for a few years now, writing about some of things I've experienced, but this album was really simmering on the back burner.
Has age made you into a fine wine of your younger self? How has life experience and being a husband in recent years influenced your creativity?
Haha, I definitely have more focus being married. Being accountable to someone else really helps clarify what my goals are, and she's amazingly supportive. I am 33 now, but luckily have been playing music for over 25 years. I finally feel like I know what I'm doing.

Who produced and where did you record this latest Album "Some Gospel"?

Daniel Sahad produced my album. I met him at Antone's last year, and he wanted to help me hone this album and realize the vision I had for it. We recorded at Estuary Studios in Austin, and the album was mixed by Charles Godfrey at Scary American Studios at the Mosiac Sound Collective in East Austin.


Why will Austin music lovers of Blues and Soul like the new album "Some Gospel"?
My roots are firmly planted in blues and soul music. While this album is incredibly personal, it is also the culmination of all of my years of studying these genres. I've been so lucky to play with some of my idols, and I've learned so much. As I said earlier, I finally feel like I know what I'm doing, but I know there's still so much to I want to explore musically.

How often are you performing at Skylark Lounge and where else are you performing at regularly?
Skylark Lounge is my home club. Since they shut down the Longbranch, it is the only bar I hang out at. I play every 2nd Saturday at the Skylark, and I fill in Margaret Wright for happy hours. I've been playing there 3-6 times a month for years. I also feel honored to play at Antone's, the Saxon Pub, and Craft Pride fairly regularly.
Love the background vocals on "40 Days" and "Away from You" and several other tracks. Who are your back up girls on the album?
Oscar Ornelas: Ms. Mack of Ms. Mack and the Daddies, and Pearl Z. I've known them both for years, and when it was time to add background vocals, those two were my only call. They are both doing incredible things, and they did amazing work on this album. I'm lucky to have great friends.

Tell me about some of your influences? I hear a little Dr. John and some Joe Cocker in your voice but maybe that just because I'm a child of the 70's.
Oscar Ornelas: Those influences are definitely there. I'm a big fan of both of those artists. My other influences are blues & jazz singers of the past century: Freddie King, B.B. King, Memphis Slim, Sonny Boy Williamson II, Louis Prima, Louis Armstrong. Sinatra, Big Mama Thornton. Sinatra's influenced every American singer for the last 50 years.

Tell us about this June 13th show at Mohawk.
Oscar Ornelas: The 6.13 Mohawk show is my album release party, and I've invited Daniel Shahad's band, Nané, to perform and of course, Ms. Mack and the Daddies. Not only was I lucky to work with such generous, talented artists, but I'm so impressed with their musical offerings. This show is just going to be a huge musical celebration.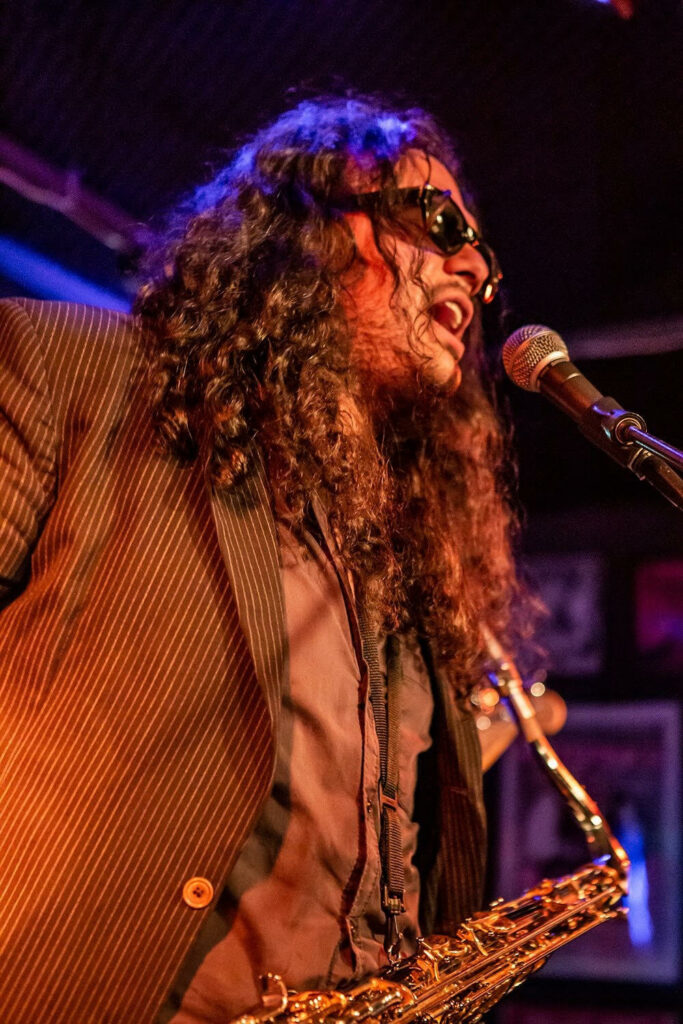 Where are you performing live in May?
In May, I have some local shows coming up at The Skylark, Craft Pride, and going to play in Houston & Dallas. I also will be going back to Europe for my 3rd time in a year this July. I have my European album release show coming up and I'll be playing some festivals. I keep everything posted on my social media and website, www.oscarornelas.com
______________________________________________

Do you play weddings and special parties? I need you to play a wedding . . .

Oscar Ornelas: Wait —Russell is there something I haven't heard about?!? Hahaha! I absolutely play weddings and private events. Let me know what you need man, and I'll show up!
Keep this thing going Oscar! Any final shout outs to Austin TX this Summer?

Always a shout out to my wife — Boo, I love you. Big thank you to my management & publicist team for putting in a lot of work. A special thank you to everyone who worked with me on "Some Gospel." And though they're not in Austin, a huge shout to my friends and band mates in Spain. I've had some incredible experiences playing there, and I'm always excited about going back.
-Oscar