This spring, the Texas Music Office welcomed Nashville-based performing rights organization Broadcast Music, Inc. (BMI) to the Lone Star State, announcing the opening of its newest creative offices in Austin. The music company has played a major role in the development of Austin-based artists and songwriters for decades, and has been a long-standing supporter of events like Austin City Limits and SXSW since its inception in 1987. President and CEO Mike O'Neill said in a press release, "Having a permanent presence in Austin is the next logical step, and we look forward to building on our many relationships within the industry to help give Texas songwriters all the support they need to create their greatest music. We're thrilled to call Austin our newest home."
The announcement came during a press conference held by Governor Greg Abbott, joined by BMI executives Mike Steinberg, Jody Williams, and Mason Hunter, Nick Shuley of the Austin Music Movement and the Texas Music Office's Brendon Anthony. Governor Abbott called this an historic moment for the music industry in Texas. "With Austin being the live music capital of the world," says Abbott, "we needed to make sure that we built out the music infrastructure so that we would be able to retain artists across the entire spectrum right here in the state of Texas. " BMI's Vice President of Creative, Jody Williams, also announced the appointment of Mitch Ballard as Senior Director of Creative. Ballard's will be responsible for the discovery and development of new musical talent in the Austin area.
BMI's presence in Austin brings massive potential to the careers of established Texas-based artists as well as hopeful up-and-comers in the music industry. Anyone who manages to gain the attention and trust of one of their creative reps seems slated for success. In other music meccas like Nashville and Los Angeles, the organization has served as a springboard for countless musicians to launch their careers by discovering talent and opening doors to further opportunities. Their track record with artists who hail from Austin has been impressive, representing legends like Janis Joplin, Stevie Ray Vaughn, Willie Nelson, Waylon Jennings, Iron & Wine, Blue October, Explosion In The Sky, The Dixie Chicks, and more.
In the past, songwriters and performing artists would often relocate to cities like Nashville, Los Angeles, or New York, seeking out the collaborative communities established there. Over the past five decades, however, Austin has become as recognized for its creative energy as it is for its live music. Industry leaders in Texas expect BMI to be a driving force in retaining the growing community of songwriters in Austin. "BMI has a long track record of music industry community building in cities such as Nashville and Atlanta," Texas Music Office Director Brendon Anthony points out. "We look forward to working with them as they continue their work here in Texas."
Their new offices are located at 1400 S. Congress Avenue, and can be reached by phone at (512) 350-2033 or by e-mail at [email protected].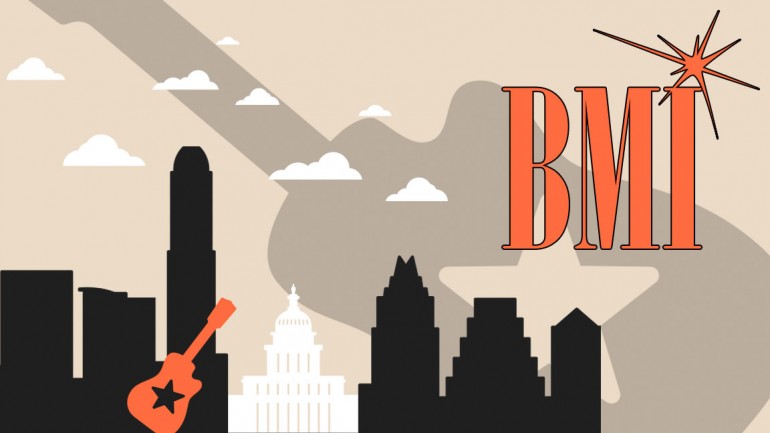 Established in 1939, Broadcast Music, Inc. is the largest performing rights organization in the United States, collecting and distributing royalties garnered through live performances, radio, television, and music streaming. BMI operates on a not-for-profit basis, paying out 90 cents on the dollar to their affiliates. Home to the catalogs of more than 900,000 songwriters and artists that span the entire spectrum of musical genre, their repertoire comprises over half of the songs in circulation today. They boast an impressive roster of legendary musicians like Bruce Springsteen, Taylor Swift, Queen, Garth Brooks, Imagine Dragons, Sting, The Eagles, and countless others. They are based in Nashville, with additional offices in New York, Los Angeles, London, Atlanta, Puerto Rico, and Austin.