By Nikki Weed
A small banner bats back and forth in the wind whipping across a sidewalk surrounded by tidy downtown buildings announcing the biggest event Boise has annually. For four days a year, the streets and storefronts of the typically sleepy modestly sized town turn into a city wide block party. The banner announces, modestly like the rest of the cities' vibe, Treefort Music Festival. Without prior knowledge of the festival, Boise sort of seems like a dud city stuck up in that state that's funny shaped. On the contrary, Boise knows how to put on one hell of a party.
Treefort is uniquely Idahoan, and is about so much more than idly standing around listening to bands you probably never heard of drinking beer that gets warm so fast you're forced imbibe at typically unhealthy speed. Positioned in March, before the oppressive heat and after the last typical cold snap, it's the perfect time of the year to have a city wide party. City wide doesn't even encompass how vast event is, it's a full body experience and about so much more than having ringing ears and a potential hang over the next day. Mark your calendar for March 20-24th this year, because you're going to Boise, the kind and welcoming town that lets its hair down for this festival.
Treefort is based on eight different categories of party, not solely based around the music, which is certainly ample enough to support the festival on its own. The different events are termed as different "forts" which goes along with the uniqueness of the festival. Any music event can have a beer tent or a food truck, but doesn't Alefort sound so much more appealing? When your buddy asks where he can meet you, your response will be "dude, I'll be hanging in the Alefort until *fill in the blank* goes on."
Filling in that blank will certainly not be a problem, seeing as how over 400 bands are slated to go on the stage over the entirety event. Some of the acts you've heard of such as Nappy Roots, Liz Phair, and Veil of Maya, but why get crammed in against a hundred other festival goers when you can check out not so popular band with a potentially cooler vibe or story. A real stand out in this aspect is Gaelynn Lea, a congenitally disabled singer/violinist that pioneers through her disability to create some amazing music and share a remarkable story to boot. Another honorable mention is the rather eccentric act of Jared Mees, an act that can't be explained only experienced, just hope he places Julai Throwback. Expect a wild musical ride, and cool thing about Treefort is, if one particular act is not for you, walk two blocks down and listen to something else. Acts range and cater to all ages and musical tastes.
That Alefort mentioned before? Imagine 21 different breweries and cideries all offering up special brews just for this particular festival. Unique from the stereotypical beer tent layout, beer is organized by beer type, not brewery. Instead of beer tents, the Aleforts are set up in different bars across the town, each one pouring a few of the featured selections along with food specials that are independent from the grub available at the Foodfort. This year, the buzz is all about the Fresh AF 2019 IPA from Barley Brown's Beer out of Baker City, Oregon. The brewery is going to be canning on-site, which beats keg beer out of a questionably sanitary beer truck any day.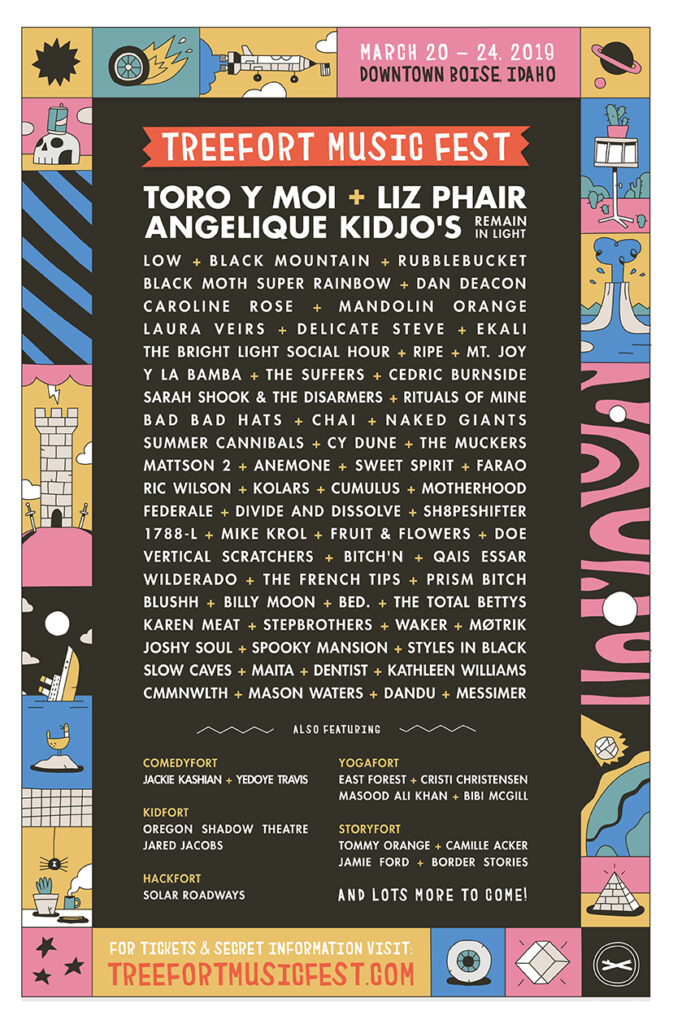 Foodfort was mentioned, and it's almost too vast and interesting to lump into an all encompassing article such as this. That typical concert/street festival food you're used to, you know the nachos with radioactive cheese and corn dogs that were frozen and thawed countless times, forget about those, this is refined festival food. Paying homage to the broad reaching spectrum of the entire Treefort experience, food at the various forts range to accommodate even the most sophisticated palette. Nationally recognized chefs also give presentations, so the Foodfort experience is so much more than eating and wishing you packed Rolaids.
Like film festivals but don't feel like being stuck in a theater for three hours watching avante garde films? Head over the Filmfort. Films are presented and vary in length and are accompanied by chats afterwards with the filmmaker. Don't feel obligated to stick around, though, there's so much more to see and hear. After leaving the Filmfort, head over to the Storyfort, sort of like the Filmfort without the movie part. Storyfort features writers sharing passages from their favorite pieces of literature and poetry. The sort of beatnik vibe might throw some people off, but it's worth at least a small listen.
Speaking of small, bring your kids along and let them party like a tiny rock star at the Kidfort. This fort keeps the kids busy while you're checking out the independent film that doubles as a skin flick (maybe?). The big kid events are replicated and presented as kid friendly and in the past have included dance battles, puppet shows, rock bands for kids and kiddie yoga.
Yoga you say? There's a fort for that. The Yogafort is set up in various yoga studios across the city and offer basic to advance instruction. Not into yoga, that's okay! The Yogafort people promise that even if you don't enjoy yoga typically, there will be hot people to look at. Might be a good fort to visit after the Filmfort, stretch out after that long sit.
Did the yoga stress you out and make you realize your body is a joke as opposed to the temple you thought you had? That's cool, Boise doesn't judge, but it does have a pretty stellar line up of comedians for the Comedyfort. This year is promised to have some over 21 fun. You have to at least check out Jane Harrison, a former writer for The Onion. Acts range from fun puns galore to full-blown raunchy jokes that make you want to brush your teeth afterwards. Leave your ego aside and go belly laugh with some new best friends. You might even get roasted, if you're lucky.
If by now you haven't come across something you like, there's one last fort you might consider, the Hackfort. Surprisingly, it's not the smoking fort, it's the tech fort. You won't learn to hack mainframes or become a YouTube sensation here, but it's worth a peek. Even if you're not into tech, check out Mega Ran, he's done everything and puts on one hell of a show with his mastery of digital music. Just one look at him and you'll want to know what his story is, and he'll happily share all within the Hackfort.
When you're done with Boise and Treefort, don't leave the great state of Idaho without taking a day trip to Twin Falls and see the massive falls that carve their way through massive rock faces. It's a sight to see, and a nice nature break from the festival vibe. Before you even get to the falls, stop at Stinker Station and get some of the cheapest beer in Idaho and a chunk of beef jerky to keep you hydrated and fed as you adventure through Shoshone Falls park. Pack a picnic if you'd like, but typically a six-pack and some jerky does the job without attracting ants.
Remember when you were a kid and you used to make forts out of everything from couch cushions to stands of pine trees you swore nobody could see you in? This is your opportunity to recreate that little kid vibe again without the risk of getting grounded. Exercise your credit card and fly into Boise or take a spontaneous road trip and live out of your car for a little while. Most festivals aren't worth the hassle, but this isn't a mud filled field Tennessee. This is Treeforti, paved and flat, and worth every penny.