Marcus Rezak makes Austin Debut of 'Gateway to the Galaxy' w/Jeff Franca ThievCorp.

Marcus Rezak is making his Austin debut with an all-star lineup in tow to celebrate his new album Gateway to the Galaxyat One-2-One Bar on May 4th. The performance will feature Jeff Franca of Thievery Corporation on drums.


Although Rezak possesses a laundry list of accolades including performing with Digital Tape Machine, Shred is Dead, Katharsis and countless artist-at-large engagements at elite music festivals, Gateway to the Galaxy is Rezak's first venture into recording his own original material.
The debut album is rich with resonant vocals with heartfelt lyrics. "The entire album is an expression of my current feelings about life and all points that have lead up until now," Rezak explains about taking the leap into venturing out as a solo artist.
The album is filled to the brim with the highest echelon of collaborators in today's music scene: Joel Cummins on keys, Kris Myers on drums, Arthur Barrow (Frank Zappa) and legendary saxophonist Bill Evans (Miles Davis Group, Soulgrass). Released in November, Rezak has hit the ground running with countless tour dates spanning from California to Nashville and has dates in Texas and Jazz Fest after parties before making the trek back to Chicago for a hometown throw down.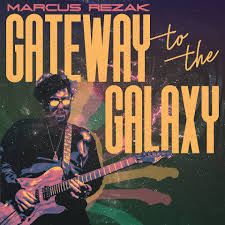 Album collaborators speak highly of Rezak's artistry and creative process. Here are a list of statements from musicians backing Rezak on the powerful Gateway to the Galaxy debut:
"Marcus Rezak is one of the most compelling and gifted guitarist / composers to come along in a long time. He is one of the new generation of musicians who I feel will be one of the pioneers in innovative music. He has the ability to connect the dots and take it to the next level. His
playing reminds me of a cross between John McLaughlin, Jimi Hendrix and Jake Cinninger!! Marcus Rezak is here to stay," Evans remarks.