Flamingo's annual celebration of Bob Marley's birthday is an Austin tradition.
In honor of the late legend, The Mau Mau Chaplains and Hail Marley! join forces to perform all your Marley favorites. And Winston will be cooking up Jamaican food in the back. Come hungry and ready to dance!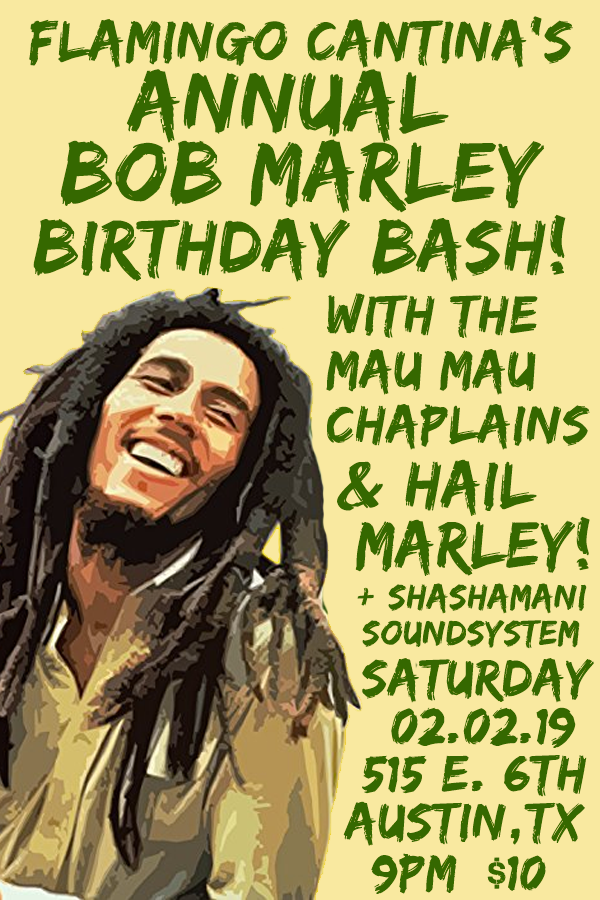 If you don't already know the Mau Mau Chaplains from our weekly Wednesday residency, this is a great night to get acquainted. These guys produce "iriginal" roots reggae with five part harmonies backed by 150 man-years of stage experience. The Mau Mau Chaplains include veteran musicians from the 80's reggae group The Lotions, as well as country/reggae phenomenon "I-Tex", the Killer Bees, Pressure amongst others. Just close your eyes and listen and you'll be transported to Jamaica on their magical wave of riddems . . .
Hail Marley! is a 5 piece Bob Marley Tribute Band from Austin, Texas that plays songs spanning Marley's entire recording career. Lineup includes, Michael Hale (lead vocals), Claude McCann (keyboards & backing vocals, Fumi Sugawara (guitar), Dwayne "D Madness" Jackson (drums & backing vocals) and Rudolph Aaron Eccles (bass).
Shashamani Sound keeps the vibes right on the decks all night long.
DOORS: 9PM
COVER: $10